Hugar at The Vasulka Effect – World Premiere
After five years the film about video art pioneer duo Steina Bjarnadóttir and Woody Vasulka is finally completed and ready to be premiered 21 Sept at Nordisk Panorama Film Festival! The islandic success duo Hugar have composed a score for the film and will be making a unique performance at the premiere!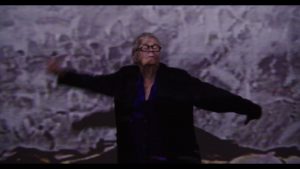 The Vasulka Effect
Steina and Woody Vasulka are pioneers of video art, and have been dubbed "the grandparents of video art". After a chance meeting in Prague in 1959 and a marriage proposal at first sight, violinist Steina Bjarnadóttir and filmmaker Woody Vasulka settled in New York and begun their love affair with the brand new Sony Video Porta Pack camera. During the wild times of the 60's, the pairs experiments with video resulted in a lifework of video art. Once the darlings of the art world, we find them in present time in Santa Fe, forgotten by the art world, in the process of archiving their lives work and struggling to make ends meet. Through their journey we begin to understand the major impact video has had on art and society from the 60's until the present day and how media art contributed to the decentralisation of art and corporate media.
Following the premiere screening of the film Steina Bjarnadóttir will participate in a Q&A-session via Skype from her home in Santa Fe, New Mexico.
Hugar
Through a series of impromptu sessions, Bergur Þórisson and Pétur Jónsson, the multi-instrumentalists responsible for the rich and dreamy sounds of Hugar, recorded and released their independent self-titled debut in 2014. The sweepingly multi-layered and ethereally ambient album quickly amassed an organic following of listeners and has since racked up over 30 million streams worldwide on Spotify alone. In addition to their new album Hugar have composed a score for the Islandic film The Vasulka Effect, premiering at Nordisk Panorama Film Festival 21 Sept.
The duo will attend the premiere and make a unique performance in the Festival Centre at Panora, 21 Sept 17:30. The performance will be accompanied by a video collage of Steina and Woody Vasulkas video art.
More info about the performance