January 2023
A new year filled with films and festivals. We start the first film tips of the year with a look at some past winners from Clermont Ferrand International Short Film Festival, which is around the corner, taking place 27 January – 4 February.
These shorts made an impact and won an award in the respective year of competition. We'd now love to share them with you and hope you enjoy!
Puff Puff Pass (Ud, spring over, ind) by Thomas Daneskov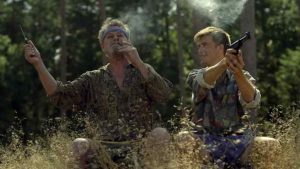 Denmark / 2014 / 27 min
One weekend, Rasmus goes to visit his dad at the family home, after months of no contact. The weekend turns out to be a much-needed bonding experience for father and son.
Natan by Jonas Bergergård & Jonas Holmström

Sweden / 2003 / 12 min
It is Natan's first day at his new job. The employment office has sent him to Viggo's hamburger joint. Münir tries to teach him the moves, but Natan is a disaster waiting to happen. Viggo sacks him and Natan is back on the street again. But Viggo's conscience gets to him – he grabs a hot dog and goes looking for Natan.