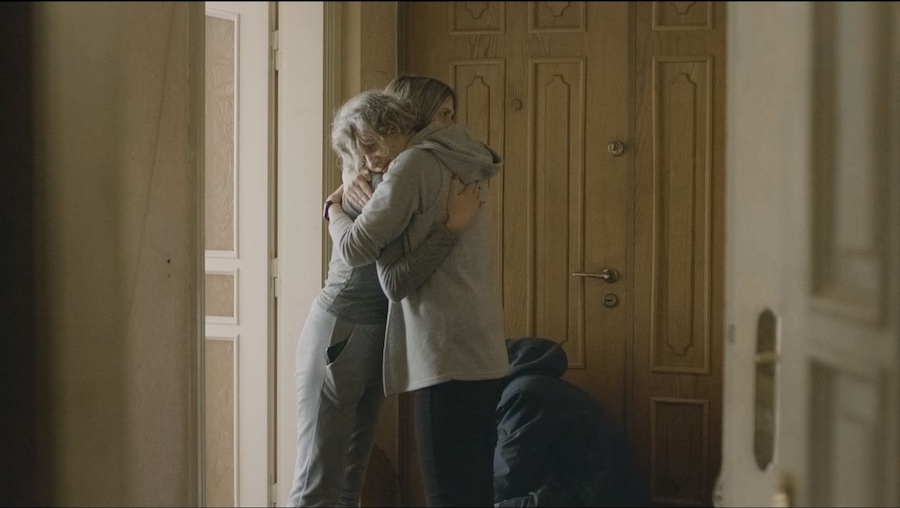 Listening to the World
Director: Yelizaveta Smith
Producer: Olga Beskhmelnytsina
IVA (40) is an art curator and human rights activist and at the same time a person with a disability. She was losing much of her ability to hear from the moment she was a child, but she remembers how to speak. Recently she lost the ability to hear any sounds. This circumstance influences all fields of her life, especially communication with people around: her ex-husband, parents and her teenage son.
When the war started, Iva and her son Mykyta, were in Kharkiv which is 70 kilometers from the border with Russia. It was a rare moment when Iva heard something – she heard the bombing. After a week of living under bombing and sitting in shelter, Iva and Mykyta decided to leave the city. They stayed at the train station for 20 hours in a panicking crowd to take the evacuation train to Lviv. But Lviv was not a safe place either. The emergency alarm of air bombing is an everyday occurance as Russia bombes Lviv. Iva and Mykyta, like thousands of other people, stayed in an underground shelter every night. Iva's sister and her two children also came to Lviv from Kharkiv, but they decided to stay in Ukraine. So it was a powerful and sad moment of a family falling to pieces when Iva and Mykyta decided to leave the country because they couldn't feel safe anywhere.
Iva and Mykyta crossed a border to Poland, where they stayed for a few nights in the church in Przemyśl. They left on a train from Poland to a small city close to Berlin and joined the commune that hosts them. The peaceful life feels unusual and strange. Iva and Mykyta are trying to be part of the commune but Iva's disability makes it very complicated because she is not able to hear and she can't learn German. Iva gets through an appointment with a doctor to check her auditory nerve. The doctor concludes that the auditory nerve is alive and Iva can make surgery to implant a Cochlear implant.
Iva's boyfriend, Vitalyi, is still in Ukraine and working in the tank factory in Kharkiv. He proposed to Iva and she is now planning to return to Ukraine to get married.