2017 Film Festival in Review
21-26 September, Malmö, Sweden
Winners  Nominees  Funders  Partners  Special Thanks  Photos & Videos  Press Material  Nordisk Panorama in the News  Previous Festival Summaries
"Nordisk Panorama Film Festival 2017 has been a major success.
Malmö has really been a melting pot of short and documentary filmmakers and fans, and the festival has reached audiences both young and old, new and recurring.
We have screened the best new Nordic Short and Documentary films telling stories about everything from core family relations to suicide bombers. The film festival has arranged thought provoking and captivating events. We have hosted Knit-a-long Cinema event, given fruitful rides in rickshaws, arranged a Safari boat ride along the Malmö canals to a museum screening and accommodated a swimming pool movie night. In addition to this we have also done our uttermost to provide a unique platform for Nordic collaboration and exchange of experiences within filmmaking.
This year it feels like we continued our success when it comes to attracting and inviting the Malmö audience, something that is of vital importance to us. We love Malmö, and we cannot wait until we get to invite everyone to Nordisk Panorama Film Festival again next year."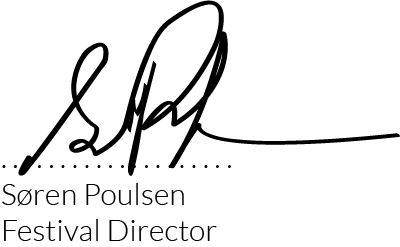 Nordisk Panorama Film Festival 2017 Award Winners
The 28th annual Nordisk Panorama Film Festival Winners were announced during the spectacular Awards Gala at Malmö Town Hall. The winners are:
Best Nordic Documentary:

"Last Men in Aleppo" by Feras Fayyad (SY), 2017, 105 min, (Denmark, Syria, Germany)
Co-directed by Steen Johannessen, Larm Film, DK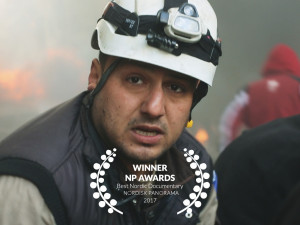 Motivation
The Award for the Best Nordic Documentary goes to this example of outstanding filmmaking portraying one of the greatest tragedies of our time. Risking their lives, with great respect for their characters and an impressive sensitivity to the complexity of war, the filmmakers take us into a world made up of choices that very few of us would be capable of making: Last Men in Aleppo.
Honourable Mention
"Nowhere to Hide" by Zaradasht Ahmed (NO), 2016, 85 min, (Norway)

Motivation
We would like to give a special mention to a film that gives us a unique insight into the long-term consequences of war, from the perspective of an ordinary man whose life is turned upside-down: Nowhere to Hide.
Jury
Olivia Cooper-Hadjian, Cinema du Reél (France), Claire Aguilar, IDA (USA), Jerzy Sladkowski, Winner of the Best Nordic Documentary Award 2016 (Sweden).
About the Award
The Best Nordic Documentary Award is presented by the documentary jury to one of the 14 films in the Nordic Documentary Competition. The award goes to the director(s) of the film.
14 documentaries competed for the Nordic Documentary Award.
Sponsored by
The prize sum is 11,000 € and is sponsored by the Nordic public broadcasters DR, YLE, RUV, NRK and SVT.
Best Nordic Short Film:
"Arr. for a Scene" by Jonna Kina (FI), 2017, 6 min, (Finland, France)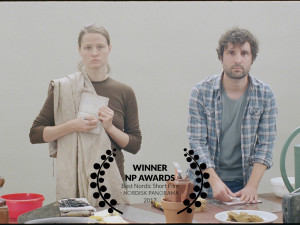 Motivation
This Award goes to a 5-minute long film shot on 35 mm in one take, because it shows the potential of what short film is when at its best. Shot within a short time, and thanks to the precise simplicity in the execution, it opens up multiple layers: for observation, perception and thinking. We see two people at work, creating something that is invisible – Sound.
There is no distraction, no unnecessary information: all the attention is on the different aspects of sound and how it's being created.
It is a joy to watch the two foley artists coordinate with one another to create one layer of sound. Even though they are not looking at each other they seem to dance together. Every movement is carefully choreographed, rehearsed and performed with intense concentration. We cannot see what they are looking at – in fact they seem to look at us, the audience, while we are looking at them. Their performance creates a soundtrack for a movie that is not on the screen, but in the head of the viewer. Each viewer sees their own film in front of their inner eye, depending on his or her own individual imagination.
Slowly you start to realize that this soundtrack is familiar to you: the running water of a shower, a shower curtain, a stabbing. The individual imagination shifts into a collective remembrance of an iconic scene from the history of cinema.
As a staged documentary this film blurs the lines between cinema, theatre and art.
It is a film about filmmaking. But it is also a film about the shared experience of cinema.
And it brings us together by tapping into the collective memory we all have – the memory created by iconic movies. All this arranged in one scene and a few minutes.
Jury
Anna Henckel Donnersmark, Berlinale (Germany), Derek Tan, Viddsee (Singapore), Peter Larsson, Winner of Best Nordic Short Film Award 2016 (Sweden).
About the Award
The Best Nordic Short Film Award is presented by the short film jury to one of the 28 films in the Nordic Short Film Competition. The prize-winning film will qualify for consideration in the Short Film Category of the Annual Academy Awards® without the standard theatrical run, provided that the film otherwise complies with the Academy rules. The award goes to the director(s) of the film.
28 short films competed for the Nordic Short Film Award.
Sponsored by
The prize sum of 7,000 € is sponsored by the Nordic directors' associations; Danish Film Directors, Directors Guild of Finland, Guild of Icelandic Film Directors, Norwegian Film Makers Association and Swedish Film Directors.
Honourable Mention
 
Best New Nordic Voice – Documentary
"Loving Lorna" by Jessica Karlsson (SE) & Annika Karlsson (SE), 2017, 61 min, (Sweden)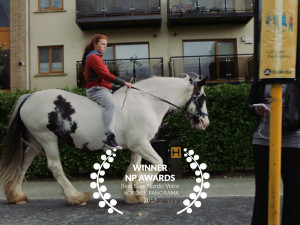 Motivation
A sensible and heart-gripping coming-of-age film about finding your way of living in a changing world, whether it's the importance of keeping up tradition or breaking loose. We instantly fell in love with the lead character, a strong and beautiful young woman. We want her to stay the way she is: Loving Lorna.
Best New Nordic Voice – Short Film
"Penelope" by Heta Jäälinoja (FI), 2016, 5 min, (Estonia)

Motivation
Speechless and with seemingly simple pencil lines, the film creates a timeless and limitless universe. The film is distinct and highly amusing, about a character coping with daily life. Home is not a prison, but life can be a mess.
Jury
Suvi Hanni, Tampere Film Agency (Finland), Jon Asp, Point of View (Sweden), Nicoline Skotte Jacobsen, Winner of the Best New Nordic Voices Award 2016 (Denmark).
About the Award
The New Nordic Voices Competition introduces promising new Nordic filmmakers. The filmmakers' works have not previously been in the Nordisk Panorama competition programme, and selected films are among the first releases by the filmmaker.
The Best New Nordic Voice Award is divided in a full length documentary prize and a short film prize presented by the New Nordic Voices jury to two of the 13 films. The award goes to the directors of the two winning films.
13 films competed for the New Nordic Voice Award.
Sponsored by
The prize sum for the competition is 3,500 €, split between the two winners, and sponsored by Film i Skåne.
Nordisk Panorama Audience Award:
"The Celestial Darkroom" by Nils Petter Löfstedt (SE), 2017, 79 min (Sweden, Belgium)
About the Award
To win the prize of the audience of Nordisk Panorama Film Festival is among the finest appreciation a filmmaker can get. The audience can vote for any of the Nordic short films and documentaries competing in the main competition programmes and the new Nordic films in the special programmes.
Sponsored by
The Nordisk Panorama Audience Award prize sum is 2,500 € and is sponsored by the City of Malmö.
Children's Choice Award:
"Schoolyard Blues" by Maria Eriksson (SE),  2017, 17 min, (Sweden)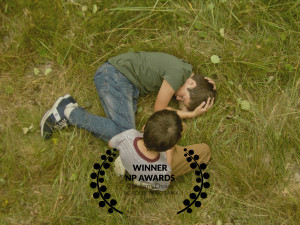 About the Award
The films in the Young Nordics programme compete for the love of our most critical audience. We ask the youngest viewers to tell us which film they liked the best and we'll award the winner with a Children's Choice award, as well as an invitation to attend next year's festival
Nominees
Best Nordic Documentary
Bobbi Jene – Elvira Lind
Death of a Child –  Frida Matilda Barkfors & Lasse Barkfors
DRIB – Kristoffer Borgli
Hobbyhorse Revolution – Selma Vilhunen
I Called him Morgan – Kasper Collin
Last Men in Aleppo – Feras Fayyad
Letters to a Serial Killer – Manal Masri
Liberation Day – Morten Traavik
Little Yellow Boots – John Webster
Nowhere to Hide – Zaradasht Ahmed
Out of Thin Air – Dylan Howitt
Silvana – Mika Gustafson & Olivia Kastebring & Christina Tsiobanelis
The War Show – Andreas Møl Dalsgaard & Obaidah Zytoon
We Were Connecting People – Arto Koskinen
Best Nordic Short Film
A Family Business – Carina Randløv
Angry Hamster – Antti Heikki Pesonen
Arr. for a Scene – Jonna Kina
Because the World Never Stops – Axel Danielson & Maximilien Van Aertryck
Cream – Lena Ólafsdóttir
Fucking Bunnies – Teemu Niukkanen
I Will Always Love You, Conny – Amanda Kernell
I'm Free – Bendik Mondal & Edvard Karijord
In a Few Years Everything Will be Different – Julie Engaas
Meaningless Conversations in Beautiful Environments – Lisa Östberg
My Gay Sister – Lia Hietala
Natural Disasters – Antti Polojärvi
Nothing Happens – Michelle Kranot & Uri Kranot
P.O.V – Jonas Selberg Augustsén
Piggyolo – Malte Pedersson
Reflection – Magnús Ingvar Bjarnason
Residence – Lisa Enes
Salvation – Thora Hilmarsdottir
Social Connection – Jan Ijäs
Sombra – Kristian Sejrbo Lidegaard
Sore Eyes for Infinity – Elli Vuorinen
Taking the Floor – Hannes Vartiainen & Pekka Veikkolainen
The Burden – Niki Lindroth von Bahr
The Ceiling – Teppo Airaksinen
The Dog – Aleksander Leines Nordaas & Hallvard Holmen
The World – Mika Taanila
ÜBERMENSCH – Jesper Dalgaard
Wide Sargasso Sea – Anna Juhlin & Kim Ekberg
Best New Nordic Voice
Dream Empire – David Borenstein
Fantasy on Sarabanda – Guðbjörg Hlín Guðmundsdóttir
Genderness – Anders Ramsell
Loving Lorna – Jessica Karlsson & Annika Karlsson
My Secret Forest – Niina Brandt
Neverland – Håvard Fandrem
Ouaga Girls – Theresa Traore Dahlberg
Penelope – Heta Jäälinoja
Road 13 – Paolo Iskra & Kim Sundbeck
Sealers – One Last Hunt – Trude Berge Ottersen & Gry Elisabeth Mortensen
Shapeshifters – Sophie Vuković
Walk With Me – Anita Beikpour
When I Hear the Birds Sing – Trine Vallevik Håbjørg
Funders 2017
Det danske filminstitut, Icelandic Film Found, Norwegian Film Institute, The Finnish Filmfoundation, Svenska filminstitutet
DR, NRK, RUV, SVT, YLE
Danske filminstruktører, NFR, SELO, Sveriges regissører, SKL
Creative Europe MEDIA, Nordic Council of Ministers, Nordisk Film & TV-fond, Region Skåne, Malmö Näringslivskontor
ABF, AVEK, Invest in Skåne, Southern Sweden Creatives, Fairtrade City
BOOSTHBG, Finlandsinstitutet, Green screen, Hövding, LIQ
Partners 2017
Malmö Stad, Film I Skåne, Nordisk Panorama
ANIDOX, BUFF, CineRegio, Dansehallerne / 60 second Dance, dok.incubator, Doc Lounge, EDN, Filmcentrum Syd, Hyper Island, Kullander, LJDP, Mstore, Malmö Konsthall, OFF, Region Jönköping län, Ribersborgs kallbadhus, Sunny Side of the Doc, Virtual Cinema Lab / ELO / Oblomovies / Aalto, WIFT
Amiralen, Billetto, C Andersson, Nöjesteatern, Folkets Bio Malmö, Grand, Gröna tryck, Inkonst, Mobilise, Panora, Plockepinn, Scandic, Slagthuset, Smak, Spegeln.
Special Thanks
Adnuvo, AutoImages, Evenemangsteknik, Equipe, Framtidsfestivalen, Game City, Musik i Syd, Nordic Game, OFF, Skurups Folkhögskola, Stenkrossen, WG film, ÅterSKAPA and all of our Malmö stad co-production partners: Barnkulturenheten, Folkets Park, Malmö museer, Miljöförvaltningen, Sommarscen, Stadsarkivet, Stadsbiblioteket and the libraries in Husie, Kirseberg, and Masten2.
Alqumit Alhamad, Andrina Eriksson, Angela Cesarec, Ann Körling, Anna Novovic, Anne Laurila, Annelie Henriksson, Buffy Croall, Catherine Champagne, Cindy Mizher, Christian Hagård, Dick Fredholm, Emanuel Sundin, Felicia Fredriksson, Jasmina Cordero, Jimmy Arvidsson, Linne Borval, Martin Axen, Martin Memet Könick, Mika Ronkainen, Petri Sirviö and Screaming Men, Pontus Silveby, Saara Toivanen, Sebastian Tarazona, Simon Staffans, Siv Gyllix, Tomas Teller Jönsson, Ulrika Hybrant.
Nordisk Panorama exists because of the community of Nordic filmmakers: Thank you for all your hard work!
A warm thanks to all the artists, filmmakers, decision makers and film financiers, distributors and producers, speakers and moderators who helped us create interesting and exciting events.
And a big thanks to our fantastic staff of volunteers: Without you, there would be no festival at all!
Photos and videos 2017
Festival Trailer
Facebook Photo Albums
Opening Night
22 September
23 September
24 September
25 September
Winners and Mentions Nordisk Panorama Awards 2017
26 September – Nordisk Panorama Awards 2017 & Final Day
Press Material
Looking for press material? Visit our Press page

Nordisk Panorama Film Festival in the News 2017
Nordisk Panorama winners include 'Last Men In Aleppo' – Screen Daily [2017-09-27]
"Last Men in Aleppo", "Loving Lorna" win at Nordisk Panorama – Real Screen [2017-09-26] 
Last Men in Aleppo wins the Nordisk Panorama in Malmö – Cineuropa [2017-09-27]
The Nordisk Panorama in Malmö invites audiences to "scream along" – [2017-08-29]
"Zadnji u Alepu" najbolji nordijski dokumentarac 2017. godine – [2017-09-28]
Six Documentaries to See at Malmö's Nordisk Panorama Festival 2017
Envoyé spécial à… NORDISK PANORAMA, le tour du monde en partant de la Scandinavie
NORDISK PANORAMA FILM FESTIVAL 2017: PART I – [2017-09-26]
NORDISK PANORAMA FILM FESTIVAL 2017: PART II – [2017-10-01]
NORDISK PANORAMA FILM FESTIVAL 2017: PARTE I – [2017-10-01]
NORDISK PANORAMA FILM FESTIVAL 2017: PARTE II – [2017-10-01]
Suomalaisen Jonna Kinan lyhytelokuva palkittiin Nordisk Panorama -festivaalilla Ruotsissa – [2017-09-28]
Putins Staatsfeind Nr. 1 – [2017-09-28]
…
Previous Festival Summaries & Material